Yamaha PSR A350 Portable Keyboard Oriental style 61 Tasten
Hersteller Yamaha
Artikel-Nr.: PSR-A350
Versandkostenfreie Lieferung!
Lieferzeit ca. 5 Tage
Produktinformationen "Yamaha PSR A350 Portable Keyboard Oriental style 61 Tasten"
Yamaha PSR-A350
Enter a Whole New Dynamic World of Oriental Music
Following on from the legendary PSR-A300, the PSR-A350 is our latest keyboard for performing Oriental music!
Players looking for an instrument for authentic Oriental music will appreciate the comprehensive capabilities and realistic sound of the PSR-A350.
A wide variety of quality content inherited from high-end keyboard models such as the renowned PSR-A2000/3000 ensures authentic sound in whatever style of music you play, while upgraded features and connectivity expand the joy of playing music even further.
Powerful, realistic sound and the latest features
In comparison to the previous model (PSR-A300) the sampling of the Voices used in the PSR-A350 has been greatly improved. In addition, we have fine-tuned the built-in speaker system to achieve even better performance. As a result, the sound of the PSR-A350 has been significantly improved and is now even more powerful and realistic.
A wide variety of high-quality Voices, Styles and Arpeggiators including realistic Oriental content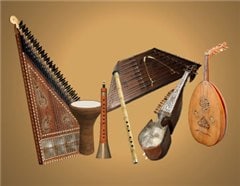 The PSR-A350 features a wide variety of high-quality Voices, Styles and Arpeggiators including realistic Oriental content inherited from high-end models such as the renowned PSR-A2000/3000.
Arabic, Maghreb, Khaligi, Iranian, Turkish and Greek content is all available to the player.
A total of 613 high-quality instrument Voices including
- 1 Sweet! Voice, 3 Cool! Voices and 3 Dynamic Voices
58 Drum/SFX Kits, 480 XG Voices, 45 Oriental Voices und 19 Oriental Kits
210 accompaniments Styles including 115 Oriental Styles (26 Arabic, 25 Khaligi, 11 Magherebi, 23 Iranian, 20 Turkish and 10 Greek Styles)
150 Arpeggiators (including 5 Oriental)
For more details, please refer to the details on Owner's Manual.
Scale Setting buttons with Memory Banks & Pitch Bend Wheel


The scale setting buttons allow you to create custom scale tuning by altering each of the 12 scale steps. You can change the scale settings at any time, even when you are playing.
The scale tune memory function allows you to store four of your own scales and recall them instantly whenever you wish.
The pitch bend wheel allows you to control pitch in real-time to add realistic expression to your playing.
USB to Host & 10 user banks for Styles

You can connect the keyboard to your PC via the USB to Host terminal to transfer data. 10 Style user banks allow you to store and use external Styles.
You can also connect an iPhone, iPod touch or iPad to experience a new dimension of MIDI control with apps. (**)
**For iOS device connection, refer to the "iPhone/iPad Connection Manual"
Audio AUX IN & Melody Suppressor Function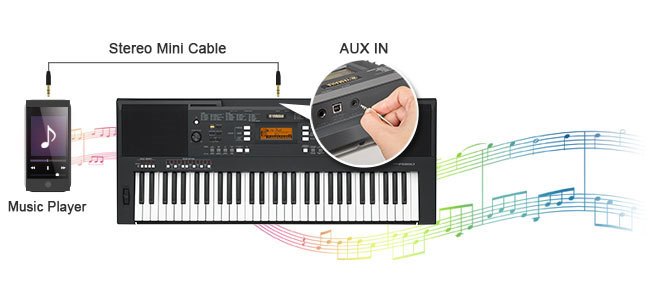 By connecting an external audio player to the AUX IN jack, you can play along with your favourite songs. The advanced vocal/melody suppressor lowers the volume of vocals and melody lines in the original recordings, leaving that part open for you to play.(***)
*Je nach Aufnahme kann die Melodiestimme auch nicht beeinflusst werden.
Nutzen Sie den Master EQ zur Klangeinstellung
Das PSR-E353 ist mit einem Master EQ ausgestattet, der Ihnen Einstellungsmöglichkeiten bietet genau den Klang zu bekommen, den Sie mögen.
Useful functions for learning and practice
The 5 song/2 track recorder helps to achieve efficient practice sessions while Duo mode allows two people to play together on identical keyboard sections. This can be very useful when performing live or during lessons.
Das Lernsystem trainiert in neun Schritten - drei für die linke Hand, drei für die rechte Hand und drei für beide Hände gleichzeitig, den Spieler. Es gibt Notendarstellung im Display und macht einfach Spaß zu üben und sich so zu verbessern. Die "Waiting" Funktion passt das Tempo automatisch an den Spieler an, bis dieser die richtige Taste gefunden hat.
9 Registration Memories

Registration Memory allows the user to save panel settings as a 'snapshot' to a Registration Memory location and then instantly recall the settings by pressing a single button.
Weiterführende Links zu

"Yamaha PSR A350 Portable Keyboard Oriental style 61 Tasten"

Weitere Artikel von Yamaha